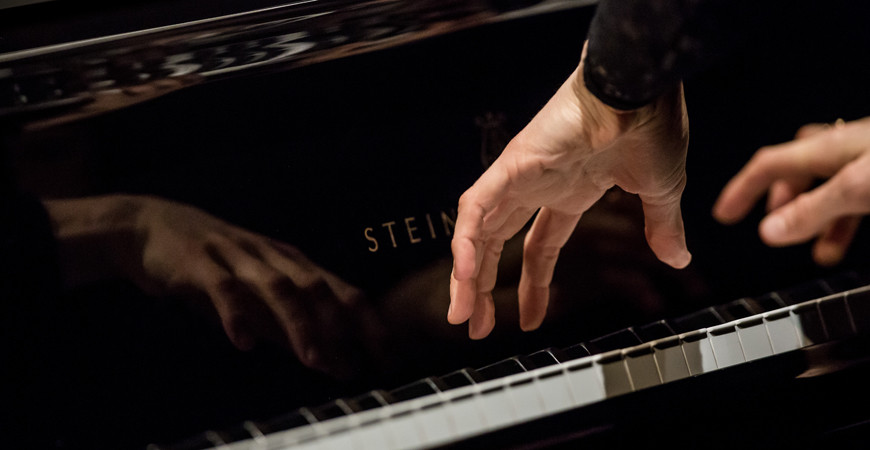 30 October 2018, 19.00-21.00
Solti Hall
Transcriptions

Presented by Liszt Academy
RECITAL BY KEYBOARD STUDENTS OF THE DOCTORAL SCHOOL/2
György Kurtág: Seven Bach Chorales (transcriptions for piano four hands)
Simon, Llorenç Prats Boscà (piano)
Bartók–Kocsis: Two Pictures (arrangement for two pianos)
Dani, Éva Szalai (piano)
Stravinsky: Two Movements from The Rite of Spring (version for two pianos)
Panni Hotzi, Ádám Menyhei (piano)
Grieg: Transcriptions of Original Songs, Op. 52 – 2. Det forste mote (The First Meeting), 6. Gamlemor (The Old Mother)
R.Schumann–C. Schumann: Transcriptions of Songs (excerpts)
Éva Szalai (piano)
Chopin–Liszt: Seven Polish Songs – 2. Spring, 3. The Ring, 4. Merrymaking
Rossi–Bartók: Tre correnti 
Frescobaldi–Bartók: Toccata quinta sopra i pedali
Della Ciaia–Bartók: Canzone
Llorenç Prats Boscà (piano)
Donizetti–Zabel: Solo from the opera Lucia di Lammermoor
Mouquet: La flûte de Pan, Op. 15
Franck: Prelude, Fugue and Variation, Op. 18
Mira Farkas, Tímea Papp (harp), László Nyári (violin)
Keyboard students of the Doctoral School
Throughout history, composers have had a habit of incorporating works and rewriting earlier pieces by fellow artists, switching instrumentalizations, rearranging the harmonies and melodies, indeed, often restructuring the musical form. This concert introduces students of the Doctoral School of the Liszt Academy on the stage of the Sir Georg Solti Chamber Hall. They play famous and lesser-known arrangements on two instruments, the piano and the harp. There are 'songs' – orchestral works without vocalists – on two pianos. Ferenc Liszt transcribed for piano songs with Polish lyrics from Chopin, and Clara Schumann, Robert's wife, who herself was a composer and excellent pianist, arranged her husband's compositions. When still in his twenties, Zoltán Kocsis made a double-piano version of an early Bartók orchestral work Two Pictures. However, Bartók is presented not only as a 'source' but arranger, too: in the 1920s, he rewrote several Baroque keyboard works for piano. On top of all this, the audience is in for a real treat with some transcriptions for harp.
Presented by
Liszt Academy Doctoral School
Tickets:
Admission to the concert is free. Free tickets can be obtained from the ticket office at the Liszt Academy one month before the concert.