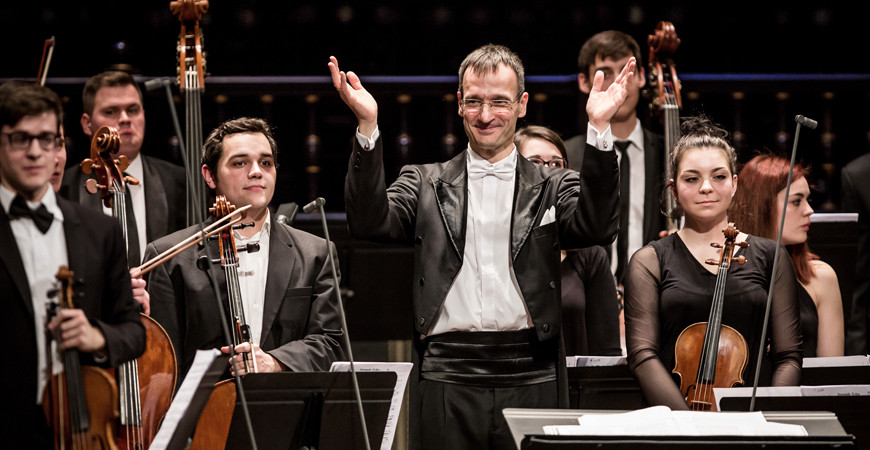 10 December 2018, 19.00-21.00
Solti Hall
LISZT ACADEMY CHAMBER ORCHESTRA

Presented by Liszt Academy
Concert of 3rd-year Bachelor's Degree Students
Mendelssohn: The Hebrides – overture, Op. 26
Dvořák: Romance for Violin and Piano in F minor, Op. 11
Dvořák: Mazurka in E minor for Violin and Orchestra, Op. 49
Haydn: Symphony No. 88 in G major, Hob. I:88
Máté Soós (violin)
Chamber Orchestra comprising 3rd-year bachelor's degree students at the Liszt Academy
Conductor: Gergely Ménesi
Liszt Academy students prepare themselves not only for careers as soloists but also for working as part of an orchestra. This recital showcases the chamber ensemble, which comprises third-year students. The conductor is Gergely Ménesi, who has led the university symphony ensemble since 2013. The violin solo is played by a most promising artist, Máté Soós, who has been a Liszt Academy student for close on a decade since he was accepted into the Special School for Young Talents at the age of just 13. We hear the youthful violinist in Dvořák's E minor mazurka. The programme also features Haydn's G major symphony (No. 88) and Mendelssohn's Hebrides concert overture. The young Mendelssohn visited the Scottish Hebrides in 1829, where he toured Fingal's Cave, which is located on one of the archipelago's uninhabited islands. The cave, which can only be approached from the sea, is formed between basalt columns and takes its name from a literary figure, the father of the fictitious Celtic bard Ossian.
Presented by
Liszt Academy Concert Centre
Tickets:
Admission to the concert is free. Free tickets can be obtained from the ticket office at the Liszt Academy one month before the concert.