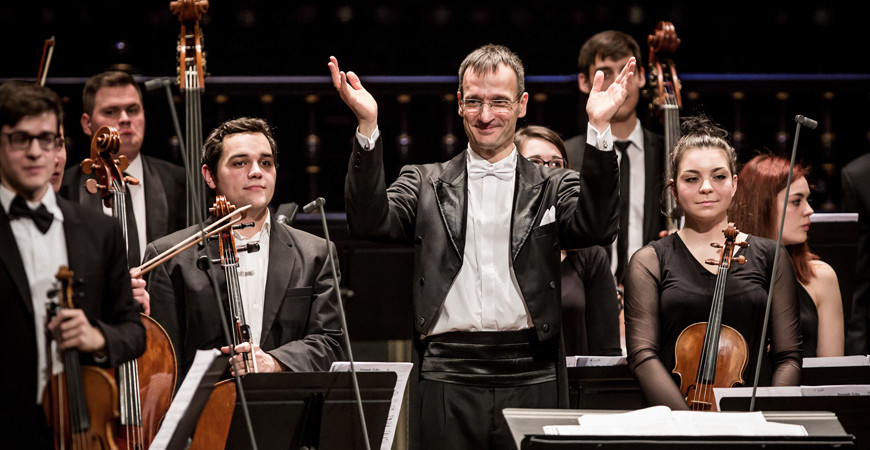 13 December 2021, 18.00-20.00
Solti Hall
Liszt Academy Chamber Orchestra/2

Presented by Liszt Academy
Corelli: Concerto grosso in D major, op. 6/4
Ravel: Introduction and allegro
Orsolya Nagy (harp)
Liszt: Années de pèlerinage, Troisième Année – 1. Angelus! Prière aux anges gardiens 
Csaba Tűzkő: Scherzo (premiere)
ZAK Saxophone Ensemble (Szilárd Katona, Viktória Pusomi, Kevin Abad Alabort, Szilárd Susovich, Zsófia Nagy, Marcell Vincze, Flórián Daradics)
Teacher: Erzsébet Selejlo
 intermission
Ibert: Concertino da camera
Marcell Vincze, Viktória Pusomi (saxophone)
Haydn: Piano Concerto in D major, Hob. XVIII:11
Valentin Magyar (piano)
Kálmán Oláh: 3 Drafts from Bach's Cello Suite
Krisztián Oláh (piano), Tamás Gyányi (double bass)
Chamber orchestra formed by the 2nd, 3rd class students of the Liszt Acdemy
Conductor: Gergely Ménesi
The orchestral musician course, one of the branches of the Academy of Music's traditionally high-standard instrumental teaching, received a new boost in that first-year students of the university can now for the first time pursue chamber orchestra studies for one year. The skills of combined orchestral playing are mastered in the first semester by presenting string orchestra works from different periods and concert rehearsals, accompanied by music theory analyses and music history lectures given by teachers of the Music Theory Department. This complex teaching-learning process concludes with the chamber orchestra recital at which students demonstrate their knowledge on stage, in front of a live audience. The repertoire representing several styles from music history is a demanding professional challenge for musicians, while at the same time being a satisfying experience for the audience. The conductor is Lajtha Prize winner Gergely Ménesi, who has headed the university's symphony ensemble since 2013.
Presented by
Liszt Academy Concert Centre
Tickets:
Free tickets can be claimed at the Ticket Office of the Liszt Academy one month before the concert.