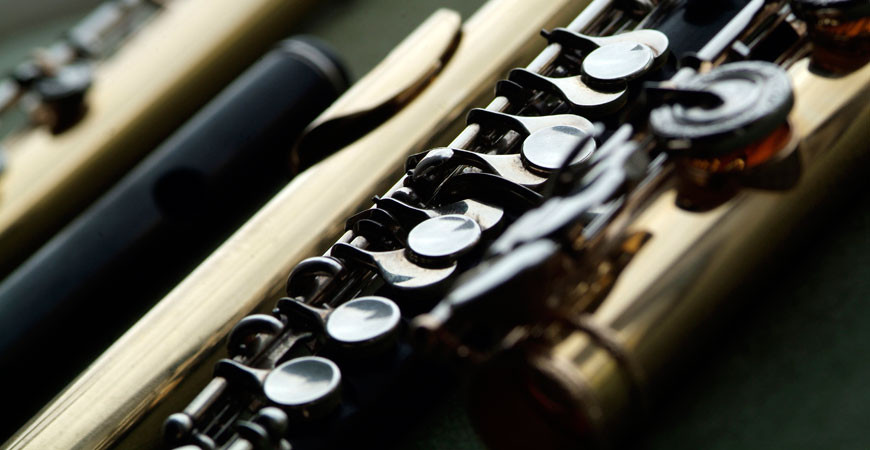 17 May 2019, 19.00-21.00
Solti Hall
Workshops of the Liszt Academy
Wind Music at a High Level

Presented by Liszt Academy
Concert of the Woodwind students of the Liszt Academy
Vivaldi: Trio Sonata in A minor, RV 86 – 1. Largo, 2. Allegro
Veronika Oross (flute), György Lakatos (bassoon), Borbála Dobozy (harpsichord)
Vivaldi: Oboe Concerto in C major, RV 447 – 1 Allegro non molto
Evelin Gaján (oboe), Rita Budai (piano)
Vajda Gergely: Lightshadow-trembling
Mátyás Katrin (clarinet)
Karg-Elert: Impressions exotiques, Op. 134 – 3. Colibri
Zsuzsanna Szűcs (piccolo), Rita Termes (piano)
Poulenc: Trio for Oboe, Bassoon and Piano, Op. 43 – 1. Presto, 2. Andante
Béla Horváth (oboe), György Lakatos (bassoon), Erzsébet Kerek (piano)
Doppler: Andante and Rondo, Op. 25
Veronika Oross, Ildikó Szabady (flute), Rita Termes (piano)
Milhaud: La cheminée du roi René, Op. 205 – 3. Jongleurs, 4. La maousinglade, 5. Joutes sur l'Arc
Ágnes Tóth (flute), Csenge Adorjáni (oboe), Mátyás Katrin (clarinet), Luca Losonci (bassoon), Bálint Südi (horn)
Poulenc: Sonata for Two Clarinets
Csaba Pálfi, Balázs Rumy (clarinet)
Glinka: Trio in D minor ('Pathétique') – 2. Scherzo. Vivacissimo, 3. Largo
Zsolt Szatmári (clarinet), György Lakatos (bassoon), Emese Mali (piano)
Host: György Lakatos (Head of Department)
It must have been a great moment of discovery when our early ancestors found it was possible to extract musical notes by blowing across the end of a hollow bone, horn or bamboo stem. This marked the start of the history of woodwind instruments. While these simple instruments are still to be found in many primitive cultures, others underwent significant evolution as the march of civilization continued. In Europe, shaping of what we know today as the woodwinds began during the Renaissance, reaching their apogee in the Age of Romanticism, when they were employed for their rich tonal qualities. Here, students of the Liszt Academy present the wealth of sounds represented by the bassoon, oboe, clarinet and flute.
Presented by
Liszt Academy Concert Centre
Tickets:
Admission to the concert is free. Free tickets can be obtained from the ticket office at the Liszt Academy one month before the concert.