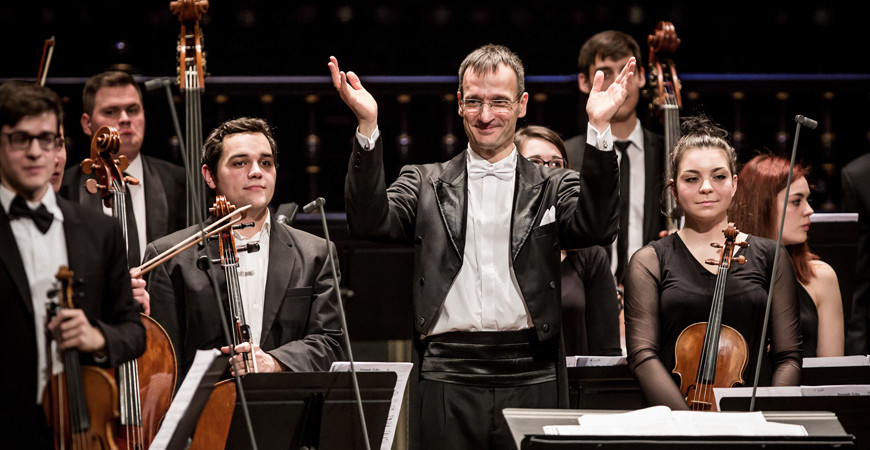 2 May 2022, 19.00-21.00
Solti Hall
Gergely Ménesi & Liszt Academy Chamber Orchestra

Presented by Liszt Academy
J. S. Bach: Harpsichord Concerto in G minor, BWV 1058
András Balázs Ádám (harpsichord)
J. S. Bach: Ich bin ein guter Hirt – cantata, BWV 85
Nikolett Mráz (soprano), Balázs Papp (tenore), Martin Csölley (bass), Róza Bene (harpsichord)
Debussy: Deux danses
Panna Szöllősy-Vágó (harp)
Ravel: Pavane pour une infante défunte
Mozart: Exsultate, jubilate – motet, K. 165 • 1. Allegro. Exsultate, jubilate
Gabriella Fenyvesi (soprano)
Tchaikovsky: Adagio molto
Elizabet Ferge (harp)
Weiner: Romance, Op. 29
Franciska Schunk (harp), Domonkos Hartmann (cello)

intermission

Gyula Fekete: Bassoon Concerto
György Lakatos (bassoon)
Tibor Csuhaj-Barna: Clap dance
Bálint Uher-Győrfi (soprano saxophone), Kevin Abad Alabort (alto saxophone), Dániel Cseke (tenore saxophone), Flórián Daradics (baritone saxophone)
Mendelssohn: Piano Concerto No. 1 in G minor, Op. 25
Kaisei Mizuno (piano)
Dániel Szabó: Vaison-La-Romaine
Bálint Uher-Győrfi (clarinet), Balázs Horváth (piano), Tamás Gyányi (double bass), Adonisz Fábry (drums)
Chamber orchestra of the Liszt Academy 2nd and 3rd year Bachelor Students
Conductor: Gergely Ménesi
The Liszt Academy functions as both university and concert centre, and these two profiles mutually reinforce each other: students can take part in study projects that end up being enjoyed by the general public. The institution prepares students not only for a soloist career but orchestral work, too, so in teaching a key role goes to symphony and chamber orchestra projects. For a few years now, first-year students pursue string orchestra courses; this is their concert. Professors of both the Chamber Music Department and Music Theory Department took part in the training, arming the youthful musicians with practical and theoretical knowledge. Conductor for this recital is Lajtha Prize laureate Gergely Ménesi, who has headed the university symphony ensemble since 2013.
Presented by
Liszt Academy Concert Centre
Tickets:
Free tickets can be claimed at the Ticket Office of the Liszt Academy one month before the concert.