Ivett Gyöngyösi receives first Concorde Talent Award
17 December 2015
Friends of the Liszt Academy Association and Concorde Securities Ltd. arranged the first Concorde Private Banking Christmas concert featuring Anastasia Razvalyaeva and Ivett Gyöngyösi, who also collected the Concorde Talent Award.
The collaboration between the Liszt Academy and Concorde Securities Ltd., one of the sponsors of Friends of the Liszt Academy, stretches back several years. As part of this relationship a Christmas concert was arranged in the Bartók Memorial House, at which two artists sponsored by the Liszt Academy Artist Management, harpist Anastasia Razvalyaeva and pianist Ivett Gyöngyösi, appeared. During the course of the evening Concorde private banking manager Mónika Tabányi presented the Concorde Talent Award, which from now on will be given to up to two gifted young Liszt Academy students each year. During the evening the recently appointed president of the Friends of the Liszt Academy András Batta also spoke.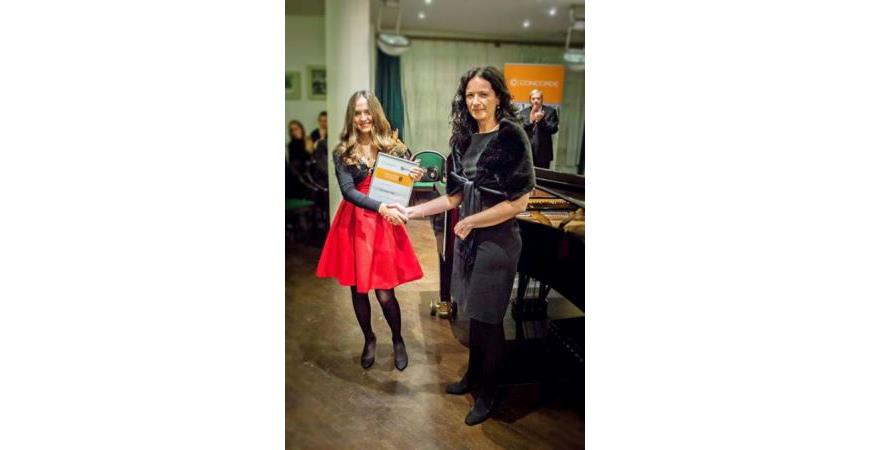 Ivett Gyöngyösi started playing the piano at the age of seven, then four years later she won a place at the Liszt Academy's Special School for Young Talents. In 2011 she moved to the department of piano studies under Kálmán Dráfi. Despite her youth she has won numerous piano competitions both in Hungary and abroad: she is a two-time winner of the Budapest International Chopin Piano Competition (2006 and 2008). In 2010 she was the overwhelming favourite at the Lions International Piano Competition and she also carried off the Steinway & Sons 'Young Steinway Artist' title in Hamburg. She was chosen as New Talent of 2011 and UNESCO special prize winner, coming ahead of artists from 40 countries. In July 2013 she won first place at the Lancaster International Piano Competition in the United States, and in October of the same year she swept the board at the 10th Darmstadt International Chopin Piano Competition. She received a Junior Prima prize in 2012 and in 2014 she won the TV talent contest Virtuózok in her category – during the programme both the jury and audience compared her to the great Annie Fischer. She can next be heard at the Liszt Academy giving a recital in the Grand Hall on 1 January 2016.
Tags