Junior Prima Prizes for music 2015
22 November 2015
The jury presented ten accolades, with winners picking up the prize and HUF 2 million in support.
This year, prizes (open to young artists aged under 30) went to pianist Péter Kiss, pianist Marcell Szabó, violinist Géza Szajkó, violinist Bálint Kruppa, cellist Dóra Kokas, oboist Zsófia Mohai, trumpet player Tamás Pálfalvi, horn player Bálint Tóth, composer Mátyás Wettl and jazz pianist Krisztián Oláh. Two winners, Géza Szajkó and Bálint Tóth, were unable to collect their prizes in person due to prior concert engagements. During the awards ceremony arranged in the Glass Hall of Müpa Budapest, the young talents were commended by Péter Csiba, chairman-CEO of MVM Hungarian Electricity Private Limited Company, co-founder of the music Junior Prima Prize, and Andrea Vigh, president of the Liszt Ferenc Academy of Music and chair of the jury. "This is the eighth time we have presented the prizes and so far we have rewarded 70 musicians and groups. We are convinced that what is of worth within our own country is of similar value at international level. Supporting talent is the best investment because there will certainly be a return on the investment in the future; gifted individuals get science, culture and the economy moving," Péter Csiba said. Andrea Vigh emphasized the significant moral appreciation represented by the Junior Prima Prize, while the cash that goes with it represents vital support for the first trials. "Once again this year it was extremely difficult to select the 10 laureates from 25 candidates, since everyone was worthy of the prize. We will be able to see the winners again at concerts sponsored by MVM in the future."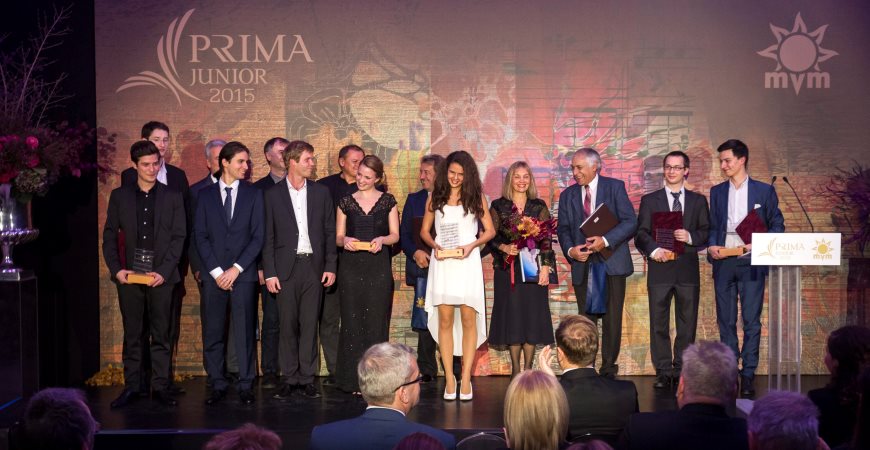 Photo: MTI / Zsolt Szigetváry

Péter Kiss, pianist, started playing the instrument at the age of nine, graduating as a student of Attila Némethy and Balázs Szokolay from the Liszt Ferenc Academy of Music in 2010. In addition, he spent time studying in Frankfurt. He was a PhD student of the Liszt Academy between 2011-2014. As winner of several domestic and international competitions he has performed many times in 12 countries in Europe as well as in the USA and India. In 2011 he was awarded an Artisjus prize and he has received the Fischer Annie Scholarship on two occasions.
Dóra Kokas, cellist, began playing the instrument in Kaposvár at the age of four. She completes her master's degree in the class of Miklós Perényi at the Liszt Academy in 2016. Since 2014 she has attended the Razumovsky Academy, London, as a private student. Last year she won two prizes at the Budapest Pablo Casals International Cello Competition, and in the same year she was awarded the Gundel Art Prize. She is a founding member of the Kelemen String Quartet and has travelled the world with the formation.
Bálint Kruppa, violinist, won admission to the Liszt Academy's Special School for Young Talents at the age of 11, where he continued his studies under the guidance of Eszter Perényi. Currently he is completing his final year of the master's programme at the Liszt Academy. He is first violinist with the Kruppa string quartet (founded: 2012) and has taken prizes at many international competitions including in Poznan, Zagreb and Sofia. This year he won a Fischer Annie Scholarship, he performed with the Franz Liszt Chamber Orchestra and as soloist of Concerto Budapest.
Zsófia Mohai, oboist, was nine when she started to learn the instrument and was just 12 when she won first prize at an international competition in Italy. In the wake of numerous other competition prizes, in 2012 she performed in concert with the Pannon Philharmonic as the youngest soloist. Last year she was a semi-finalist in the Virtuózok classical music talent contest. Oboist teacher Melinda Kothencz has assisted in her development for many years.
20-year-old Krisztián Oláh, jazz pianist, currently studies under Károly Binder at the jazz piano department of the Liszt Ferenc Academy of Music. He became interested in jazz through his father, the jazz pianist Kálmán Oláh. After winning several international competitions in past years he took third place at the Montreux Jazz Festival piano competition, and was awarded the Creative Art Prize founded by György Vukán. His ensemble, the Oláh Krisztián Trio, was set up four years ago.
Tamás Pálfalvi, trumpet player, was a Bard College scholarship student in the United States from 2009, he took his degree at the Liszt Academy in 2013, where he is currently studying for his master's degree under Gábor Boldoczki. Last year he won the Fanny Mendelssohn and Yamaha scholarships; this year his solo recording Agitato was released by Berlin Classics, with accompaniment by the Franz Liszt Chamber Orchestra.
Marcell Szabó, pianist, started playing his chosen instrument at the age of eight, at 11 he was taken on by the Liszt Academy's Special School for Young Talents, and from 18 he was a student of the university under András Kemenes and György Nádor. Currently he is a doctoral student of the Liszt Academy. He has achieved success at several competitions in Hungary and abroad; last year he won the 6th Béla Bartók International Piano Competition.
Géza Szajkó, violinist, attained his master's degree at the Liszt Academy this May. In 2000 he won the international violin competition staged in Graz, in 2008 the national chamber music competition in Szeged, Hungary, and in 2013 he and his quartet walked away with the national Leó Weiner Chamber Music Competition. He has given concerts in the US, Germany, China, Mexico, Italy and Switzerland.
Bálint Tóth, horn player, was taught by Ádám Friedrich at the Liszt Academy. In 2010 he won the audition for first horn of the Dohnányi Orchestra Budafok, and later he was appointed principal instrumentalist here. He has been solo horn player for Concerto Budapest since 2011 and he is also a member of the Hungarian Opera House.
Mátyás Wettl, composer, attained his degree at the Liszt Academy as a student of Gyula Fekete in 2010, before continuing his studies at the Amsterdam conservatory, where he was awarded his master's degree in 2013. In 2006 he won first prize at the National Composer Competition, and last year he was nominated from more than 100 entries for this year's Young Composers Meeting, where he won first prize. He is also a winner of this year's Gaudeamus Prize.
Tags